Pre-Harvest Hop Estimates 2022
Pre-Harvest Hop Estimates 2022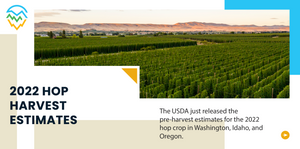 Hop Harvest Estimates 2022
USDA-NASS Pre-Harvest Estimates Published 8.12.2022
The USDA National Agricultural Statistics Service just published its 2022 pre-harvest estimates report for U.S. crops, including hops. The report lists all the planted hop acreage in Idaho, Oregon, and Washington and forecasts the estimated yield per acre. The report was finalized on August 1st but, barring any catastrophic weather events, the estimates give a good picture for the coming hop harvest.
Hop Acreage Planted
Total planted acres for 2022 was 59,970, down from 60,872 acres in 2021. Washington State lead in acreage reduction with a decrease of 1,353 acres year over year. Oregon was the only state to add acreage in the Pacific Northwest and planted an additional 705 acres in 2022, bringing the total planted acres to 8,100. Citra acreage in Oregon saw the largest increase for any variety and grew from 1,472 last year to 1,775 this year, according to an earlier USDA report on strung acreage.

Top 5 Hop Varieties by Acreage 2022
These five varieties account for 54 percent of all strung acreage in the U.S. for 2022.
Hop Yield Estimates
Overall, the hop growing season was good for the Pacific Northwest and the estimated yield per acre will be up this year to 1,922 pounds per acre compared to 1,900 pounds per acre last year. Washington leads the yield estimates for the year at 1,980 pounds per acre. Idaho is the only state with a projected decrease in yield, slipping from 1,900 in 2021 to 1,800 this year.
Hop Production Estimates
Even with the estimated increase in yield, due to the reduced acreage, the total hop production for 2022 is estimated to be under 2021 and come in at a total of 115,259,400 pounds (371,500 fewer pounds than 2021). 2021 was the highest year on record for both hop acreage and yield, but even with the estimated decreases, 2022 will be the second highest year for both acreage and production.
The 2022 hop harvest will get underway this week or next in the Pacific Northwest and the USDA will publish official hop production numbers after everything is wrapped up.
SOURCES:
USDA-NASS Pre-Harvest Estimates: Link to Original PDF
USDA-NASS Acreage Strung Report: Link to Original PDF