Brewers Spotlight: Yuengling Brewing
Brewers Spotlight: Yuengling Brewing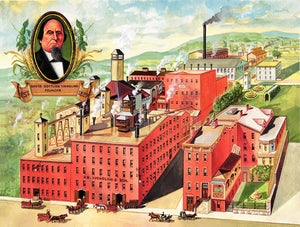 Welcome to Yakima Valley Hop's Brewer's Spotlight!
A series from Yakima Valley Hops, featuring a new brewery monthly.
Our July Spotlight is with Americas Oldest Brewery
Yuengling!
Written by Ruthie Dixon, our Sales Manager at Yakima Valley Hops. 
For this months Brewery Spotlight, we had the pleasure of speaking with the four women, sisters, and family owners of the oldest brewery in the U.S., how cool is that?! Yuengling was founded wayyy back in 1829, and are still around making some of the best and most wanted beer around, better yet, continuing to grow! Continue reading below for the full story on Yuengling. 
How did your brewery get started?
Yuengling was founded in 1829 by my great, great, great grandfather, David G. Yuengling, who immigrated from Germany to Pennsylvania. At that time, he first named the brewery the Yuengling Eagle Brewery and debuted the eagle and barrel icon to represent purity, quality, and strength. The eagle logo proudly embodies the independent and spirited nature of our brewery and the Yuengling brand for over 192 years. In 1873, the brewery's name changed to D. G. Yuengling & Son, Inc. after David's son, Frederick, joined his father as a partner and the 2ndGeneration in the family business. My sisters and I - the 6thGeneration of the Yuengling family - take great pride in being America's Oldest Brewery, keeping the business American-owned & family-operated and strong for future generations. 
What's unique about your brewery?
Our distinction as America's Oldest Brewery differentiates us from other companies. Our family-approach to the business is also unique. It's not every day that you see a 6th generation company still 100% American-owned and family-operated. We consider our employees as playing a huge role in helping us continue to innovate and grow. Staying connected with our community and listening to our consumers is something deeply ingrained in our company's culture and history, and one of our top priorities.  It's the reason that we've been able to maintain our foundation as America's Oldest Brewery, while also building upon it and innovating for the future.
How would you describe your company culture?
When we say family, my sisters and I don't just mean the five generations of Yuenglings who came before us; we also reference the generations of employees who helped make this business a success. We've been successful all of these years because of the hard work and resiliency shown by the previous generations, the commitment of our Yuengling employee family, and the support of our loyal consumers who have supported our brands. Our company is one large family business, and I think we see that as another big differentiator for us. Our commitment to our employees was evident during COVID-19. While our entire industry felt the implications of the virus, the health and well-being of our employees (as well as our consumers) remained our main priority.
Who spearheads the innovation?
As the 6th Generation of brewers, we are always looking to our loyal fans and consumers for what they want in their beers and drinking experiences.  In addition to listening to the feedback from our fans, we've stayed successful because we continue to use the foundational wisdom and experience of the five generations before us to innovate and create new products that cater to different lifestyles.  With FLIGHT by Yuengling, for example, we saw a growing desire for more upscale light brands with lower carbs and calories. This was a chance for us to deliver our own interpretation of an upscale light beer, with better taste and stats that are a step up from more mainstream brands.
Most recently with Raging Eagle, we heard that consumers were craving more flavor. We saw an opportunity to create a bold mango beer that appeals to adventurous drinkers and adds a new edge to our portfolio of iconic beers. This contemporary addition to Yuengling's portfolio feeds into the passion and energy of the 21-35 year-old young adult who is looking for bold, invigorating flavor in their next beer adventure.  
In 2020, Yuengling produced and distributed over two million barrels of beer and we have seen strong growth from our new brands like FLIGHT by Yuengling and Yuengling Hershey's Chocolate Porter. Through all of the innovation, our most popular beer continues to be our flagship Traditional Lager, which was introduced by our dad in the late 1980's after he become owner of the brewery.  
Is there a recipe you could share with us?
Any recipe with as much history and authenticity as ours stays under lock and key! Recently, we sent our 192-year-old family brewing recipes to Fort Worth, TX to be brewed at Molson Coors' Fort Worth  brewery. Sealed in a secure wooden crate and carefully loaded into an armored truck, along with Yuengling's proprietary yeast strain, the recipe traveled to Texas, marking the start of Yuengling's westward expansion and partnership with Molson Coors Beverage Company.  
Product focused
How would you describe your beer/brewing style?
Our beer and brewing style is rooted in tradition and our German heritage. Our German brewing expertise and family tradition is demonstrated by our core brand foundation including our flagship Yuengling Traditional Lager, Light Lager, Black & Tan, and our more recent brand Yuengling Golden Pilsner, as well as our seasonal brews like Oktoberfest and Yuengling Hershey Chocolate Porter. Although our roots are what make Yuengling unique, we also believe in innovating for the future to attract new drinkers to our portfolio. We've accomplished this with recent brand introductions such as our low-carb, low-calorie FLIGHT by Yuengling, which we refer to as the Next Generation of Light BeerTM, our first-ever beer collaboration Yuengling Hershey's Chocolate Porter, and our newest brand Raging Eagle Mango Beer.  
What is your flagship beer?
Many fans recognize Yuengling for our Yuengling Traditional Lager brand. Famous for its rich amber color and medium-bodied flavor with roasted caramel malt for a subtle sweetness and a combination of cluster and cascade hops, this true original delivers a well-balanced taste with very distinct character. Born from a historic recipe, Yuengling Traditional Lager is a true classic. What many don't know is that Lager didn't become our flagship brand until 1987. Two of the brewery's original beers were Lord Chesterfield Ale and Dark Brewed Porter, released more than 150 years earlier. We still produce both of those heritage brands today. 
What are your favorite hops to brew with? Bittering? Flavor? Aroma?
Cascade and Cluster hops have been used in our brewing recipes for generations.  As we've become more innovative over the past several years, our brewers have experimented with both newer varieties of hops such as Citra and Azacca and traditional/Noble varieties like Hallertau and Saaz.  Our Golden Pilsner brand was introduced in 2019.  Within this flavor profile, Hallertau and Saaz hops impart a complex aroma, followed by a slight bitterness in the finish.
What are your top 3 hops and why?
Certainly Cascade and Cluster are the most widely used hops across our brand portfolio.  Our Lord Chesterfield Ale utilizes both of these varieties not just in the kettle, but also in the dry-hopping technique.  This process gives our Chesterfield Ale, which is an American-style Pale Ale, a unique citrus/grapefruit aroma.  Like our Golden Pilsner, our seasonal Oktoberfest is brewed with the Hallertau hop variety.  This beer is well balanced between the sweet, specialty malts and the spicy, herbal Hallertau aromatics and finish.
Top 3 styles of beer to brew?
It's hard to pick just three styles of beer as we have fans of all styles! As mentioned previously, our success is built on core brands of Lager, Light Lager, Black & Tan, and Golden Pilsner. Consumers have come to know and love these brands, with our most popular beer being our flagship Traditional Lager. In 2020, Yuengling produced and distributed over two million barrels of beer and we have seen strong growth from our new and innovative brands like FLIGHT by Yuengling, Yuengling Hershey's Chocolate Porter, and Raging Eagle. 
Do you have any upcoming releases or events? 
To kick off our joint-venture with Molson Coors and westward expansion, we're thrilled to bring our brands to passionate fans in the Lone Star state this fall. We see tremendous opportunity in the high demand for Yuengling in Texas. We'll then follow the same disciplined and methodical approach to expansion that has brought us success for over 190 years. 
In 2022, our new Tampa Campus will offer fans, local residents and visitors a first-class destination to experience our brands, sample our broad portfolio of beers, enjoy delicious local food, and learn more about our 192-year family-brewing history. The new campus will feature an array of amenities that include an outdoor recreation area and beer garden,  interactive history, artifacts and advertising memorabilia from Yuengling's 192-year history as an American-Owned & Family-Operated Brewery, and at a later date an on-site 15-story hotel.
Social focused
What social causes is your company passionate about?
As America's Oldest Brewery, we trace our traditions back over 190 years to when we were first founded as the Eagle Brewery. The eagle has become a symbol of our inspiration and quality; thus, we are committed to preserving this special bird for future generations. 
We've found a way to work towards preserving this national symbol for future generations. For the last two years, Yuengling has been a partner of the American Eagle Foundation (AEF), a leading nonprofit organization focused on the care and protection of the U.S. National Symbol, the Bald Eagle. Through this partnership, we've sponsored the AEF's Northeast Florida Bald Eagle Nest Cam, made monetary donations and encouraged Yuengling fans to donate, and we've sponsored an Eaglet. Our contributions have helped AEF advance their mission of education, conservation, and rehabilitation for the Bald Eagle, as well as expand educational opportunities and support their efforts in building an Eagle hospital.
How does your brewery stay involved in your local community?
As mentioned, Yuengling has always placed an emphasis on family and community. This past year our entire industry felt the implications of the COVID-19 Pandemic. To help combat the local impact on restaurants and businesses, we made approximately $150K in donations to key community groups like the Hospitality Assistance Response Program of Pennsylvania (HARP) and the Florida Restaurant & Lodging Association (FRLA) for impacted hospitality workers in our two home markets.  We also supported the Gary Sinise Foundation and their Emergency COVID-19 fund dedicated to providing First Responders with PPE, and TAPS (Tragedy Assistance Program of for Survivors) to provide critical resources for veterans and their families as they navigate the additional challenges of the pandemic. 
Additionally, we continue to support veterans and military-focused organization as well as the next generation of brewers. More than $500,000 have been donated to military nonprofits in recent years and we have partnered with various military-centric organizations including Team Red White & Blue (Team RWB), Operation Gratitude and Tragedy Assistance Program for Survivors (TAPS) in support of their collective efforts for our nation's heroes. We also recently launched a Yuengling Stars & Stripes program, which is dedicated to supporting our nation's veterans through donations and collaborations with Team RWB, a nonprofit forging America's leading health and wellness community for veterans. Another effort we're passionate about is supporting the next generation of brewers through partnerships with organizations such as USF's St. Petersburg campus (USFSP) Brewing Arts Program and Pink Boots Society, a nonprofit focused on encouraging and inspiring women beer professionals through education. In 2019, we donated $50,000 to the Pink Boots Society to launch the Yuengling Women in Brewing Scholarship Program, and we also launched a Veteran Award which has financially assisted veterans in theUSFSP Brewing Arts Program. 
What are some challenges you have faced or are currently facing as a brewery?
The last year and a half presented its own unique and challenging times for essentially all industries and businesses, including the beer industry. The effects of COVID-19 are felt throughout the industry by brewers alike, and we saw a drastic impact on on-premise sales (draft beer in bars, restaurants, venues, and sporting events).  Consequently, we saw a huge amount of growth in off-premise sales as a result of COVID. These sales allowed our brands to be available to consumers, especially the traditional on-premise consumer who had to adapt to the new normal. While we've leaned into this uptick in off-premise sales by providing consumers with trusted brands like our Yuengling Traditional Lager, Light Lager, Black & Tan, and Golden Pilsner, we've also had the opportunity to introduce new products like Raging Eagle Mango Beer, which is being sold in 24-ounce cans at grocery and convenience stores, as well as 12oz 12-pack cans.  The aluminum can packages, in particular during COVID, have recently grown to represent 50% of craft beer dollar sales in off-premise channels. 
Last year's data reinforces what we already assumed: that while consumers were stocking up on essentials like toilet paper and food, they were also pantry loading on beer – including staple brands like Yuengling. There was always wide consumer interest in purchasing beer, it's just a matter of consumers adapting to where they can buy it and when.
What needs do you have that aren't currently being met?
The one need that wasn't being met was demand for our iconic beer outside of our 22-state footprint. Fans in western states regularly asked when they would be able to enjoy Yuengling's great beers without having to jump on an airplane or smuggle across state lines. 
To meet this need for our passionate fans, we entered a joint venture with Molson Coors to create a long-term brewing partnership that allows us to bring our portfolio of iconic American beer to even more consumers and markets. Together, Yuengling brewers are working closely with Molson Coors brewers to utilize their brewing facilities and expand Yuengling's presence west for the first time in company history. Of course, one of our biggest priorities throughout this partnership is to ensure we still maintain the quality, independence and reputation we've built in our family business for 192 years. Back in January, we announced the first step in our westward expansion with distribution  into Texas. We are on track to roll out beer to Texas retail locations in the fall of 2021. 
Industry Focused
Where do you see the industry going in the next five years?
Whichever way the industry goes in the future, Yuengling will be prepared and will continue to deliver quality products to surprise and delight our fans. In addition to producing quality core brands like Lager, Light Lager, Black & Tan, and Golden Pilsner, we continue to excite fans and reach new drinkers through innovating brands like Yuengling Hershey's Chocolate Porter, FLIGHT by Yuengling and the newest addition to our portfolio – Raging Eagle Mango Beer.  

Previous generations survived the difficult times of The Great Depression, World Wars, and Prohibition by staying true to our fans and we will continue to face challenges as an opportunity to grow and to push forward. 
For the short term, we're thrilled to celebrate our expansion with Texas fans and new drinkers this fall and open our new Tampa Campus in 2022!